Discover How Your 3D Floor Plans are Designed to Match Your Property
Your 3D Floor Plans are Delivered Ready for Online & Print Marketing
---
Add to Your Property Website.
Your 3D floor plans are prepared to add directly to your website.
Add to your floor plans page where prospects are currently viewing your 2d plans. Additionally, include on your home page to attract prospects further into your site.
Add to Your Internet Listings.
Your 3D floor plans are ready to be added directly into your internet listings.
You will receive web resolution JPGs of each 3D floor plan. These can be sent to all of your internet listing providers and added just like your current floor plans. Some providers will allow you to upload them yourself. No extra image processing is required.
Print in Your Next Property Brochure.
Each 3D floor plan is delivered ready to place directly into your next property brochure.
Each plan is sent to you in a 3000+ pixel pdf format at 300 dpi. This is the size your printer requires for premium printing results. If your printing company has any special needs we can work directly with them to accommodate their requirements.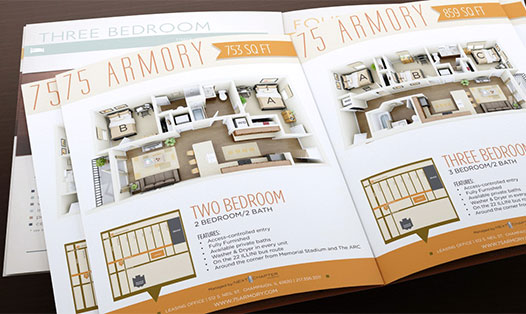 Post to Your Property's Facebook & Flickr Pages.
Your 3D floor plans have been optimized for use anywhere on the web.
This includes your social media pages. Create a new photo gallery on facebook. Share your 3D floor plans on Flickr. Its a simple way to draw more attention and attract more prospects with your social media.
Display On Site for for Prospect Presentations.
Replace the current floor plans at your on site office with your new 3D floor plans.
Print, frame, and mount them on the wall for your prospects to study. This makes a great place to start property tours. Your prospects will be able to easily decide the units they would like to view. Poster resolution 3d floor plan files can be supplied for large format printing.