Transform Your Apartment Floor Plans into Powerful Sales Tools
Did you know, most apartment prospects go directly from your property homepage to your floor plans? This makes your floor plans the second most desired content on your website. This might be surprising to you, but it isn't news to anyone searching for an apartment.
Once a prospect has a general sense for your property, they want to know how the specific unit they may rent will fit their needs. Floor plans clarify critical decision making details. Details such as, what is the size of the living room? How is the kitchen designed? And how can I layout my furniture?
So how can you transform your apartment floor plans into compelling marketing tools?
While your prospects want to understand your apartment layouts, they don't particularly enjoy viewing traditional floor plans. They are difficult to read and often confusing.
The solution is to show your floor plans visually as professionally staged 3d floor plans including real world finishes.
Every leasing agent knows the impact of showing a staged apartment model. Well staged models make prospects feel at home and this makes them much easier to lease. While the benefit is clear, staging every apartment is impractical. Apartment 3d floor plans solve this problem by allowing your units to be shown as beautifully staged models. This is the difference between a prospect seeing an empty room and a welcoming home. It is the difference between leasing a unit and leaving it vacant.
Attract more residents today and lease more units online with photo-realistic 3d apartment floor plans.
Apartment Floor Plan Gallery
3DPlans is preferred by America's leading apartment property management companies.
Why use Apartment 3D Floor Plans?
See why 7,000+ properties utilize our services.
High-quality & affordable floor plan design solutions to promote your properties.
The most popular product, Standard 3D Floor Plans include custom finishes designed to match your property.
Virtual tours of your 3D Floor Plans built for modern devices and browsers. A cost effective replacement for on-site models.
Easy to read black and white or color floor plan drawings.
How Rental Properties Use Visual Marketing to Grow Sales
"People walk in and they feel like they already know that they want to live there. It makes the closing process smoother, easier, and quicker. And more comfortable. We've given them so many tools to play with, that's what really sells it for us."
Construction & development of luxury multifamily properties
"People walk in and they feel like they already know that they want to live there. It makes the closing process smoother, easier, and quicker. And more comfortable. We've given them so many tools to play with, that's what really sells it for us."
You don't have to be an expert to order. We've made the entire process amazingly simple using our online portal. All you need to do is:
1) Order your project online and send design information.
2) Realistic proofs will be ready to review in 3-5 business days (unlimited rounds of revisions are included for most products).
3) Add your web JPG and 4K print resolution pdf to your marketing.
If you do have any questions, your dedicated Project Manager is always available to work with you one-on-one.
We design 3D floor plans in a fraction of the time of other studios. Proofs are ready for single property projects in 3-5 business days. (If you're in a rush, we can have proofs ready as quickly as 1-2 business days.) Multi-property projects are more complicated, and delivery time varies. We work on projects of all sizes, from a single floor plan to 1,000+ floor plans.
We've built our reputation on designing picture-perfect 3D floor plans that make your units look their best. Unlike many studios, we don't put any limits on the number of changes you can request. We won't stop making changes to your floor plans and property maps until you are 100% satisfied.
(The only exception is 3D Walking Tours, which are limited to 4 rounds of revisions.)
Absolutely. You can review proofs online and collaborate with your entire team. Our online portal makes it a snap to mark edits where needed. Updates are usually completed within 1-2 business days and then sent back to your team for approval.
Yes. Your 3D floor plan's interior details – from the windows and flooring to the kitchen cabinets  and counters – are matched to your actual on-site units. We work from your photos or samples to create photo-realistic finishes and colors that make your floor plans as lifelike as possible. We even offer an option to customize the colors of the furniture to match your company branding.
You'll receive both a JPG and 4,000+ pixel PDF of every 3D floor plan. These files are perfect for adding to your website, brochures, displays and interactive kiosks, or even using as standalone sales tools.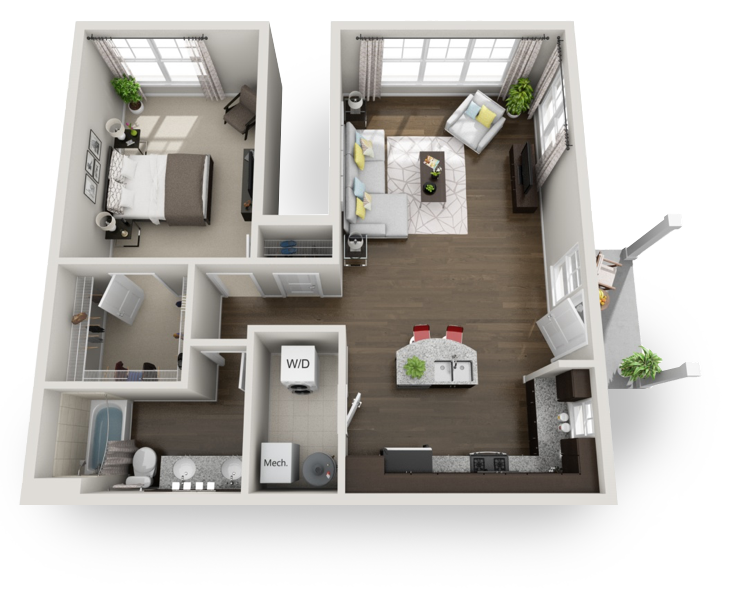 Revolutionize Your Marketing with 3D Floor Plans, 2D Floor Plans & Virtual Tours
The Ultimate Guide to Choosing a 3D Floor Plan Designer
The Ultimate Guide to Choosing a 3D Floor Plan Designer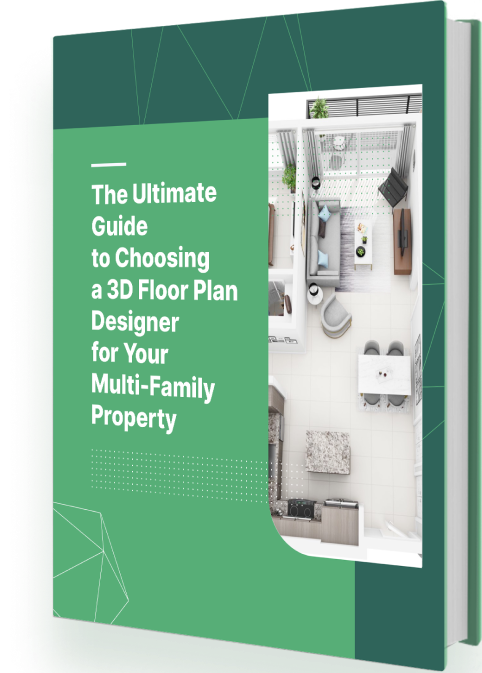 • 8 Crucial Questions You Must Ask • Expert Advice from America's Largest Management Companies • Everything You Need to Know About 3D Plans, Site Maps & Other Digital Assets • Project Satisfaction Checklist • Free Downloadable 3D Studio Comparison Worksheet