Both 3D floor plans and 2D floor plans are powerful marketing tools, but they have slightly different uses. When it comes to understanding 3D vs 2D floor plans, there are some important differences to keep in mind.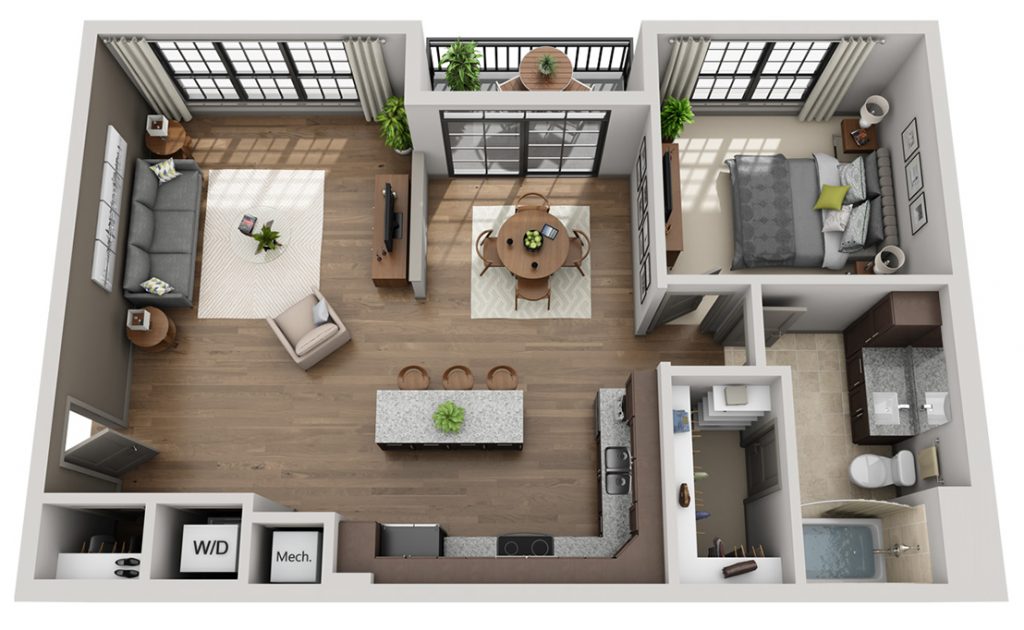 By far our most popular product, 3D Floor Plans are designed to look just like your on-site units. 
What really sells your units are custom finishes.
All of our 3D floor plans include finishes designed to look just like the properties do in real life. That includes details such as windows, flooring, kitchen cabinets, countertops, appliances, tile, and many other elements. 
In fact, one of the biggest reasons clients love working with us is because we offer competitive pricing with a high level of customization and quality.
That attention to detail makes your marketing materials look better. It also makes them more powerful and effective, because the 3D renderings match the look of your real units.
3D floor plans are professionally decorated.
Most prospects love seeing how a new unit looks when it's furnished. It helps them visualize what it would be like to live there. That takes them an important step closer to signing a lease. 
That's why all of our 3D floor plans are decorated. We offer your choice of nine pre-designed furniture collections to choose from. (Custom furniture collections are also available as an add-on.)
Room dimensions can be added to 3D floor plans.
As an option, you can have room dimensions added along the perimeter walls to show prospects the exact size of each room.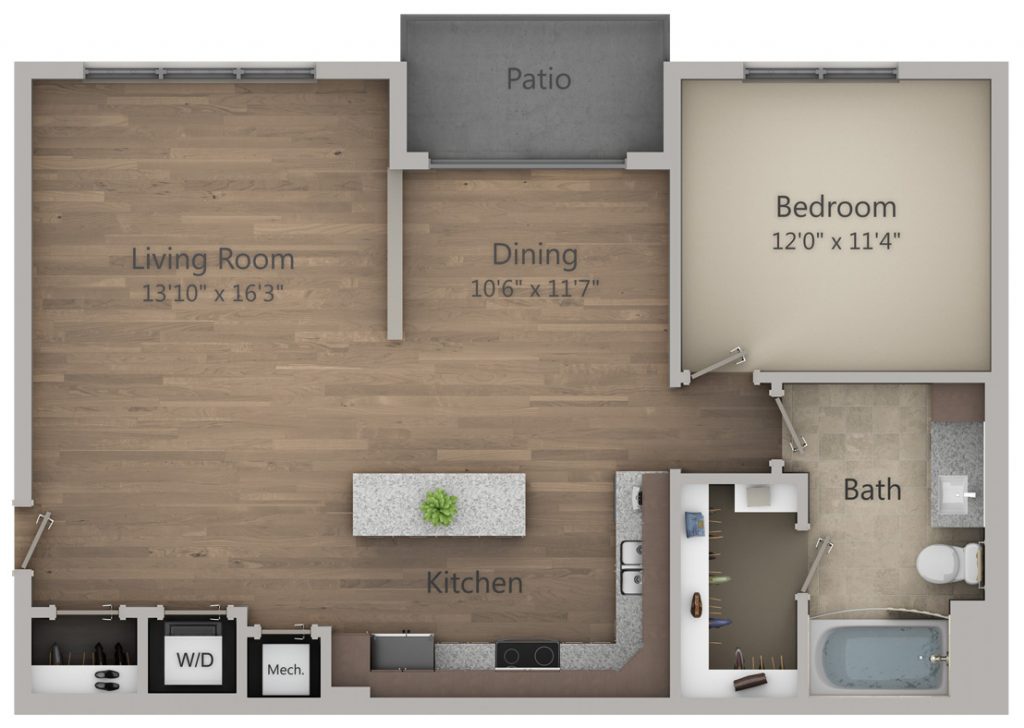 Our 2D floor plans are designed with exactly the same level of attention to detail, but in a two-dimensional format. Prospects see a top down view of the layout. We show the unit empty, without any furniture, so that prospects can focus on the layout, and we include dimensions (as long as they are supplied with your files). 
We create the most realistic 2D floor plans available.
Just like our 3D floor plans, the finishes in the 2D version are precisely matched to your real-life units. We include customized flooring, kitchen and bathroom finishes, and all of the other important details. 
Everything is carefully designed to show your prospect how they can expect the unit to really look like.
We design 2D plans exactly the same way we design 3D plans, with all of the same attention to color, texture, lighting and shadows. That gives every floor plan a pleasing realistic feel like nothing else.
Add 2D Floor Plans to Your 3D Floor Plans & Save Over 50%
Here's the secret: We use the same application to design the 3D Floor Plans and 2D Floor Plans. 2D floor plans can be added to 3D floor plans at less than half of the cost. That means when you order 3D plans, you might want to add 2D plans, too. 
Our standard rate to add 2D Floor Plans is $50/plan. Multi level floor plans are slightly higher at $100 for a two story layout. (Note: Unfortunately, we cannot offer this discount for B&W 2D Floor Plans).
Black and White Floor Plans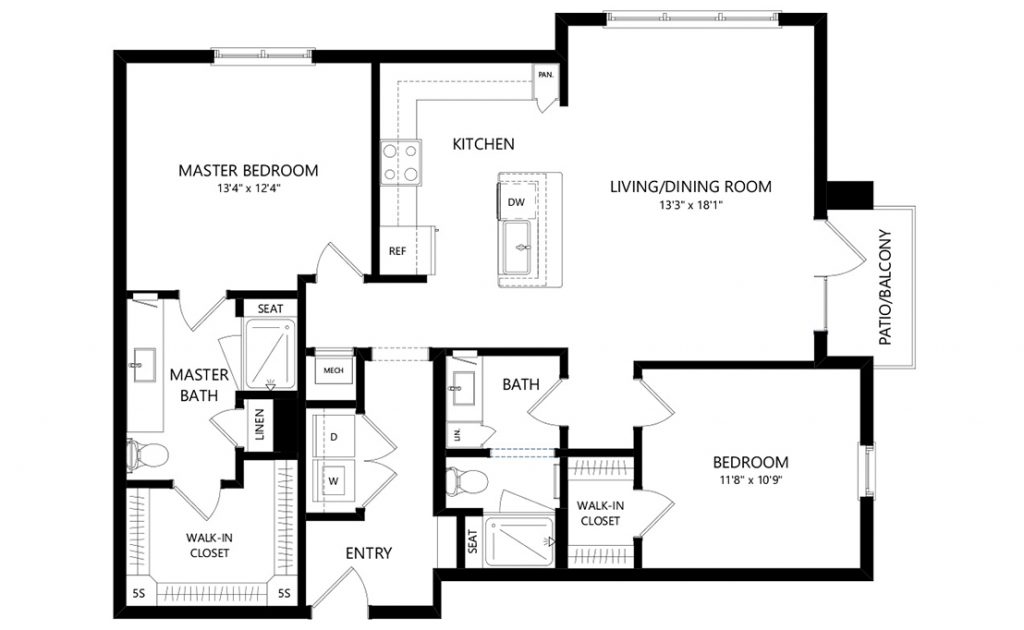 For some marketing materials, you need standard black and white floor plans. We put the same level of accuracy into designing black and white floor plans that clearly label and show everything in the unit. 
The traditional and reliable option.
Black and white floor plans have been in use for so long that it's what most prospects expect to see. They're simple and straightforward to understand. 
B&W floor plans are easy to read.
Using attractive and simple architectural symbols, our black and white floor plans clearly communicate the details of your unit. It makes it as easy as possible for prospects to read labels, see room dimensions, and get the in-depth information they need to make a leasing decision. 
What's included in every floor plan?
All of our floor plans, both 3D and 2D, include:
No matter what kind of floor plan you order, the timeframe is quick: usually just 3 to 5 days for first proofs. 
We can create floor plans and custom finishes from almost anything you can send us, including photos or drawings. Plus, every floor plan includes unlimited rounds of proofing until approval. 
A combination of floor plans is one of the most cost-effective ways to increase the effectiveness of your marketing.