Amenity 3D Walking Tour + VR Tour Add-On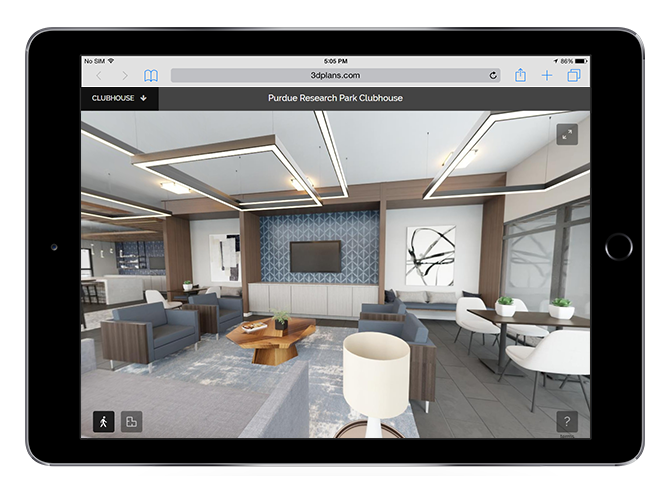 Quoted per project + $150 VR (optional)
Amenity 3D Walking Tours are virtual tours of your new amenity built in 3D. Built for modern devices and browsers. 4 rounds of changes and a final version included. Hosting provided by 3DPlans.com for no additional cost.
Amenity 3D Walking Tour

+ VR Tour Add-On
Interactive Amenity 3D Walking Tours are mobile & desktop friendly virtual tours of your amenities built in 3D.
Showcase new amenities before they are completed on-site. Prospects can tour professionally designed interiors of your clubhouse, lounge, fitness room and other amenity spaces as though they were finished. Custom furniture is included.

Navigate through the space and view panoramas of each room with a click or touch. The tour is both desktop and touchscreen compatible including tablets, smart phones, iPhones and modern mobile devices. Integrate into websites and on-site web enabled touchscreen applications. Your tour is hosted at 3DPlans.com for no additional cost.
Click Below to View a Clubhouse 3D Walking Tour
These images are stunning, not just in terms of layout; but the meticulous details offered in the product - water in a tub, floor type, counter top material. All very true to life and a real seller when showing prospects appliances and aesthetics....This is worth it, the wow factor from your audience CANNOT be beat.
Melanie Ling, Marketing & Social Media Director
Contemporary Management Concepts
The added benefit of being able to communicate our services through 3D imagery has without question added an amazing amount of value to our process.  Hats off to the 3DPlans team for their attention to detail, affordable pricing, and truly amazing 3D products and services.
John Griffith Manager, Business Development
Sage Water
We were delighted with how flexible you were. You accommodated all our little changes quickly and efficiently. The results are awesome!
Kirk Carter, Owner
Service First Web Masters
Included

Additional Options
Custom Furniture
Custom 3D furniture pieces are designed and integrated into your 3D Walking Tours using your supplied references and images at no additional cost.
Designed to Match On-Site Amenities
Details such as flooring, ceilings, windows and interior finishes will be matched to your amenities.
Cross Browser Compatible
Operates on modern browsers without the need for plugins.
Mobile & Desktop Friendly
Mobile touchscreen compatible, including the iPad™, iPhone™ & Android.™
Touchscreen Enabled
Ready to use in on-site web enabled touchscreen kiosks*.
Embed in Your Website
Embed into your website's graphic interface or link to the 3D Walking Tour directly. View embed options here.
No Hosting Fees
Unique URL hosted at 3DPlans.com at no additional cost and with no reoccurring fees.
360 Navigation
View panoramic images from inside your amenites and navigate between rooms.
Add VR to allow prospects to experience your tours in virtual reality from a stand-alone headset or smart phone. This option includes the creation of an additional VR ready link.

*Unlike 3D Walking Tours of units, a separate purchase of a 3D Floor Plan is NOT required. The 3D Floor Plan is included in the cost.

*Includes all property amenity tours.
Add VR to your Amenity 3D Walking Tours and allow prospects to see your amenities with life like realism with a VR headset.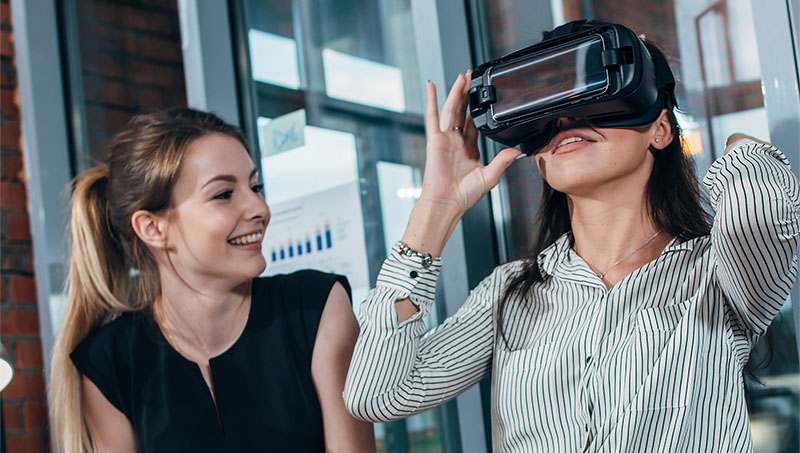 Showcase your amenities using VR during construction
Allow online prospects to view amenities in VR before they visit
View in a standalone VR headset or a mobile phone
Setup in your leasing or sales office
With the VR Tour add-on, you will receive two links: the regular 3D Walking Tour link and a separate VR ready link designed to open the tour in a compatible headset or smartphone. The $150 add-on cost is a flat fee per property in addition to the cost of the 3D Walking Tours. Equipment is purchased separately (the Oculus Go is our recommended choice for stand-alone use in a leasing/sales office). We do not sell headsets or equipment.