You guys proved your services beyond what I was expecting and am thrilled to have found such a great partner. Look forward to working with you on many more communities.
Benjamin Watt, Director of Marketing
Crescent Communities
So easy to work with! Loved the attention to detail and how friendly and professional the team was to work with!
Jenny Velilla, Regional Manger/Marketing & Training Director
My Perfect Place Communities
We LOVE being able to work with Christine on our projects. She values our time, our business and the urgency with our turnaround. I've worked with 3DPlans going on 3 years now and they still treat me and my team with the utmost respect. They also deliver a very high quality product and are very quick to respond to any (rare) issues that may come up. Thank you 3D Plans!
Kate Irving, Director of Marketing
Northwood Ravin
Included

Additional Options
Designed with Templated Finishes
Details such as cabinets, flooring, windows, and bathrooms do not match the property. Instead, pre-set finishes will be used.
Room Labels & Dimensions
Room labels and dimensions can be placed within the center of each major room.
Unlimited Rounds of Revisions
Request changes to your 2D Floor Plans until you approve.
Quick Turnaround
First proofs ready in 3-5 business days and revisions in 1-2 business days.
Quality Control Team
Reviewed by our Quality Control Team before your team receives proofs.
Web & Print Final Files
JPG file for web marketing and print resolution 4,000+ pixel PDF with transparent background.
Top-Down View
View the 2D Floor Plan from a traditional top-down view to easily visualize the layout.
Dedicated Project Manager
Every step along the way, a dedicated project manager is available to answer your questions.
Furniture can added in place of room labels and dimensions, using one of our pre-designed
furniture collections
.


Design time depends on the number of floor plans and properties involved in the project. Single property projects generally take 3-5 business days to receive proofs.
Rush projects can have proofs ready as quickly as 1-3 business days.
Multi-property projects can take several weeks to months.
We work on projects which range in size from a single floor plan to 1,000+ floor plans.
Each Economy 2D Floor Plan includes both a JPG and 4K PDF. Examples can be downloaded here.
The main rooms in each 2D Floor Plan include room labels and dimensions (if provided). Furniture can be added for an additional cost. If custom furniture is needed our team can design 3D furniture pieces using reference photos of the real furniture.
No! Unlike many studios, we offer unlimited rounds of changes for Economy 2D Floor Plans until you approve.
Dimensions are included if they are provided on the supplied floor plans. If the supplied plans do not include dimensions our design team is unable to accurately extract dimensions and only room labels will be included.
The Economy 2D Floor Plans are pixel based images and are created in raster formats such as TIF, JPG, PNG or Bitmap. They are not able to be supplied as true vector files. There are two solutions which should meet needed print or web requirements for using the 2D Floor Plans:
1) The 2D Floor Plans can be supplied at a resolution where there will be no visible difference from vector files. As an example we offer poster size resolution files.
2) The 2D Floor Plan can be added into files which have a vector format, such as .ai or .eps.
You might also be interested in our 2D Furniture Decorator.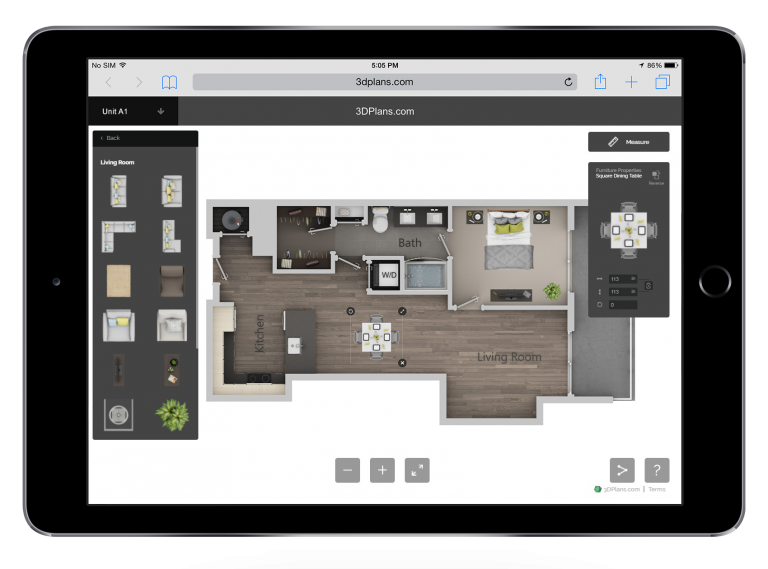 Inrease engagement by allowing prospects to stage your 2D Floor Plans
The intuitive user interface allows prospects to arrange furniture in your layouts and then share their designs with family and friends. The application operates in the browser using the latest HTML 5 technology and is touchscreen ready for operation on Android™, iPhone™ and other mobile devices.