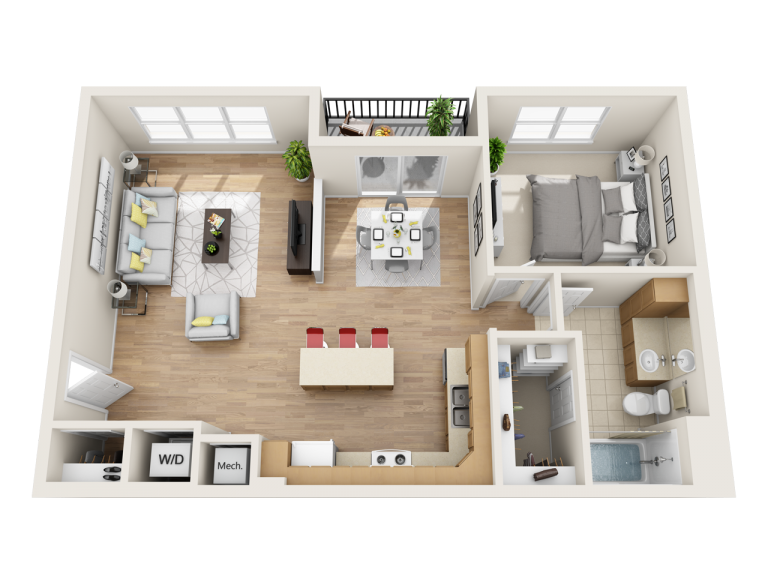 Each Economy 3D Floor Plan is designed using templated finshes instead of property specific finishes. You will receive unlimited rounds of changes and a JPG and 4K PDF upon approval.
Each of your floor plans will be designed as a budget friendly Economy 3D Floor Plan with preset templated finishes.
Property details such as kitchens, flooring, windows and bathrooms will be designed using the neutral preset finish style shown. Flooring in each room will include your choice of honey wood, beige tile or beige carpet and kitchens will include honey cabinets, beige counters and white appliances. The rooms will be staged with the Newport furniture collections. You will be able to review and make unlimited rounds of changes. However, the economy style does not include changes to the finishes and furniture.
Once approved, the 3D Floor Plans will be available for downloading in JPG format for use online and in 4K PDF format ready to add to your print marketing.
Click Below to View Economy 3D Floor Plans
Our experience with 3DPlans.com has been excellent! The floor plans are an amazing marketing tool and have placed us a step ahead of our competitors. 3DPlans provides quick and professional service. We have received countless compliments on the floor plans and would highly recommend this service!
Natasha M. Suttle, Assistant Property Manager
Van Rooy
3DPlans.com has exceeded our expectations in developing 3D Floor Plans for our communities. With a fantastic team of professionals, our floor plans were put together efficiently, on time and our needs were consistently met. With the many options that 3DPlans.com provides, we will continue to partner with them as our company grows in the multifamily industry.
Jacleen Kasserman, Portfolio Manager
CTL Management, Inc.
3DPlans.com did an excellent job on our apartment's floor plan designs. Their customer service is excellent and they process your requests very quickly. I highly recommend it for other businesses.
Jasmine Harris, Director of Real Estate
Greystar
Included

Additional Options
Designed with Templated Finishes
The interior finishes are designed with pre-set neutral materials and do not match the property.
Unlimited Rounds of Revisions
Request changes to your 3D Floor Plans until you approve. The Economy styles does not include changes to finishes.
Quick Turnaround
First proofs ready in 3-5 business days and revisions in 1-2 business days.
Quality Control Team
Reviewed by our Quality Control Team before your team receives proofs.
Web & Print Final Files
JPG file for web marketing and print resolution 4,000+ pixel PDF with transparent background.
Dedicated Project Manager
Every step along the way, a dedicated project manager is available to answer your questions.
Birds-Eye View
View the 3D Floor Plan from an aerial view to easily visualize the layout.
2D Floor Plans can be added to 3D Floor Plans at less than half the cost.
Dimensions can be placed along the perimeter walls.